Hello, hello! Angelica here, welcoming you to
another AWESOME day in the
Sizzix Fresh Vintage Showcase Hop!
I am THRILLED to be representing The Twinery
and for the opportunity to design along
so many incredible designers!
Haven't heard what it's all about?
Here is some info from Julie Ranae's Tuesday post:
For the next six weeks, sixty amazing designers from all over
the creative spectrum will be sharing their work using the newest
dies from Sizzix, designed by Eileen Hull.
The Twinery is proud to be a sponsor for this event
several of our very own designers will be sharing their work.
Throughout the next six weeks,
whenever you see the badge featured above, just click
on the designer's name and you can begin the hop.
This is my go-to neutral twine color. Everyone should own a spool!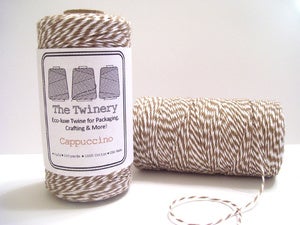 Anxious to see more?
Be sure to pop over to my blog,
Handmade by Angelica
for more photos, project details,
and what makes this project extra special.
I'll give you a hint - the sweet flower has a hidden purpose!
You'll find instructions on my blog on how to participate in this
huge, fabulous showcase as well as how to get in on the giveaways!
Thanks so much for stopping by!
Enjoy the hop!